THIS ARTICLE CONTAINS SPOILERS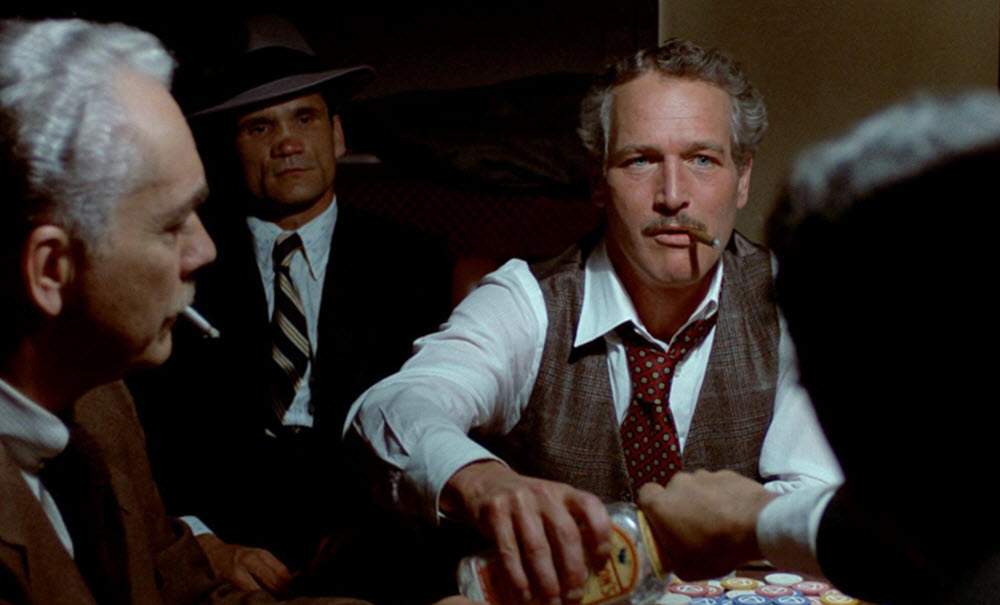 The Sting is a 1973 heist film set in 1936 and partly inspired by real cons perpetrated by the brothers Fred and Charley Gondorff, as told in David Maurer´s 1940 book "The Big Con: The Story of the Confidence Man".
The movie tells the story of two professional conmen who come up with a highly intricate plan to con a mob boss. It starrs Paul Newman and Rober Redford as the conmen, and Rober Shaw as their mark.
The Sting was directed by George Roy Hill, who had already worked with both Newman and Redford in the western Butch Cassidy and the Sundance Kid. Screenplay was by David S. Ward.
The film is noted for its anachronistic use of ragtime music, and for employing old-fashioned title cards to separate the various sections of the plot. It was chiefly filmed on the Universal Studios backlot, with only a few scenes shot elsewhere.
The Sting received very favorable reviews and was also a box office success, grossing nearly $160 million on a $5.5 million budget. It was nominated for ten awards at the 46th Academy Awards and won seven of them, including Best Picture, Best Director and Best Writing (Original Screenplay). The Sting has been preserved by the U.S. National Film Registry of the Library of Congress  due to it being "culturally, historically, or aesthetically significant."
Plot
In 1936, the grifter Johnny Hooker seeks out the retired conman Henry Gondorff, who is hiding from the FBI and asks him to join in a con against the dangerous mob boss Doyle Lonnegan. Gondorff reluctantly agrees and recruits a core team of experienced grifters to participate in the heist.
Gondorff and Hooker agree to do a version of the complex scam "The Wire". To this end, they set up a fake off-track betting parlour and lures Lonnegan in. Through various forms of manipulation, they make Lonnegan believe that he can take the successful betting operation from the owner. Lonnegan agrees to finance a $500,000 bet at the parlour, win through cheating and take over when the owner is financially devastated. Little does he know that he is being played.
Cast
Paul Newman as Henry "Shaw" Gondorff
Robert Redford as Johnny "Kelly" Hooker
Robert Shaw as Doyle Lonnegan
Robert Earl Jones as Luther Coleman
Charles Durning as Lt. William Snyder, Joliet P.D.
Ray Walston as J.J. Singleton
Eileen Brennan as Billie
Harold Gould as Kid Twist
John Heffernan as Eddie Niles
Dana Elcar as FBI Agent Polk, aka "Hickey"
Jack Kehoe as Erie Kid
Dimitra Arliss as Loretta Salino
James J. Sloyan as Mottola
Charles Dierkop as Floyd (Lonnegan's bodyguard)
Lee Paul as Lonnegan's bodyguard
Sally Kirkland as Crystal
Avon Long as Benny Garfield
Arch Johnson as Combs
Ed Bakey as Granger
Brad Sullivan as Cole
John Quade as Riley
Larry D. Mann as Train Conductor
Leonard Barr as Burlesque House Comedian
Paulene Myers as Alva Coleman
Joe Tornatore as Black Gloved Gunman
Jack Collins as Duke Boudreau
Tom Spratley as Curly Jackson
Kenneth O'Brien as Greer
Ken Sansom as Western Union Executive
Ta-Tanisha as Louise Coleman
William "Billy" Benedict as Roulette Dealer
Short facts about The Sting
Director
George Roy Hill
Producers

Tony Bill
Michael Phillips
Julia Phillips

Written by
David S. Ward
Starring

Paul Newman
Robert Redford
Robert Shaw
Charles Durning
Robert Earl Jones

Music by
Marvin Hamlisch
Cinematography
Robert Surtees
Editing
William Reynolds
Distribution company
Universal Pictures
Premier
Lenght
2 hours and 9 minutes
Country
USA
Language
English
Budget
$5.5 million
Box office
$159.6 million