THIS ARTICLE CONTAINS SPOILERS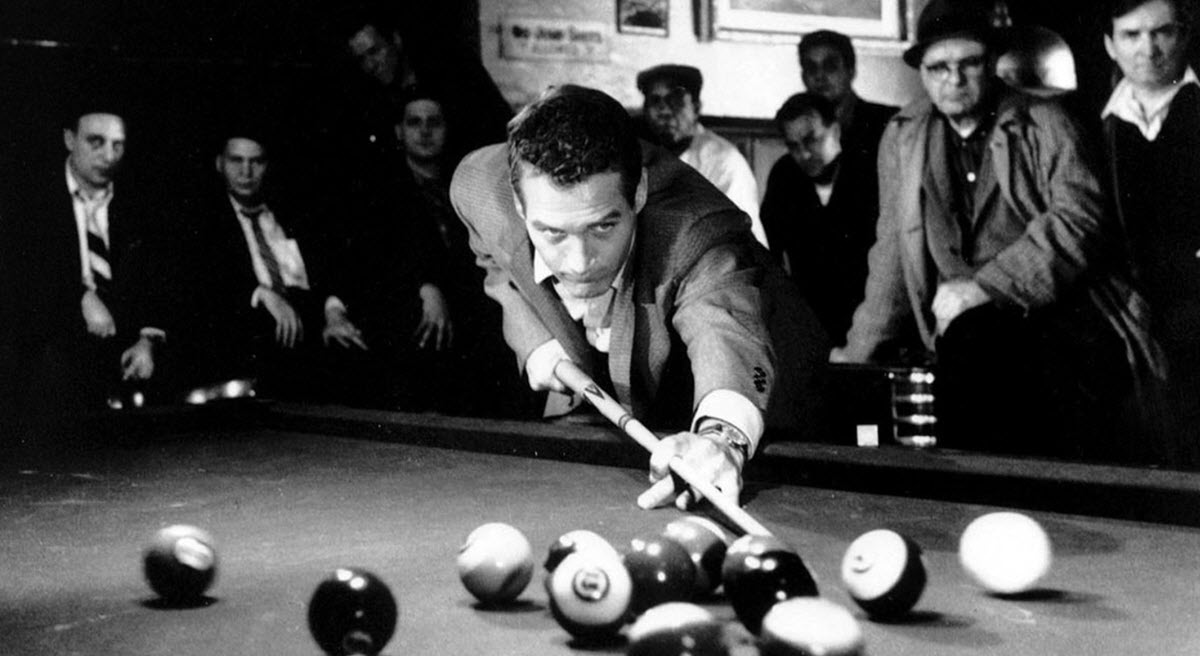 The Hustler is a 1961 drama film based on Walter Tevis´s 1959 novel of the same name. The film was directed by Robert Rossen, who co-wrote the screenplay together with Sidney Carroll.
Paul Newman portrays the small-time pool hustler "Fast Eddie" Felson who dreams of becoming a high-stakes hustler. In an effort to make his dream come true, he challenges the legendary Minnesota Fats, played by Jackie Gleason, and gets involved with the unscrupulous manager Bert Gordon (George C. Scott).
The entire movie was shot in New York City over the course of six weeks. Many of the scenes were filmed in McGirr´s pool hall and Ames Billiard Academy (both have since became defunct). For the bus station scenes, the film crew built such a realistic dining area at the Manhattan Greyhound bus terminal that real passengers sat down thinking it was real.
The Hustler got glowing reviews, helped spark a resurgence in the popularity of pool in the early 1960s, and is today considered a 20th century classic. It was also a box office success, making $7.6 million on a $2 125 000 budget.
Plot
Small-time pool hustler "Fast Eddie" Felson travels with his friend Charlie across the United State to challenge the pool legend Minnesota Fats. They play straight pool for $200 a game, before raising it to $1,000 a game. When Eddie is $11,000 ahead Charlie pleads with him to quit, but Eddie refuses to stop playing before Fats calls it quits. After 25 hours and a whole bottle of bourbon, Eddie is over $18,000 ahead, but he then loses everything except $200 of his original stake.
Back at their hotel, Eddie leaves half of the remaining stake with Charlie who is asleep, and leaves. As he is stashing his belongings at the bus terminal, he meets Sarah Packard, a part-time college student who walks with a limp and is addicted to alcohol. After getting to know Sarah a bit more at a local bar, Eddie walks her back to her appartment but she refuses to let him come with her in.
Instead of travelling back to his home city, Eddie moves into a rooming house and makes a living with his small-stake pool hustling. Sarah eventually warms up to him, but with reservations. Charlie wants Eddie go back out on the road again, but to no avail.
When Eddie realizes that Charlie held out his percentage at the Fast game, he becomes livid since he believes that he could have rebounded with that money.
Professional gambler and promoter Bert Gordon offers to stake Eddie in return for 75% of his winnings, but Eddie declines.
Eddie reveals himself as a hustler when he humiliates a local pool shark, and the other players take revenge by breaking both his thumbs. He is cared for by Sarah as he heals. She tells him of her love for him, but he cannot say it back.
When Eddie has healed sufficiently to play pool again, he accepts Bert´s offer, since a "25% slice of something big is better than a 100% slice of nothing".
Together with Bert, Eddie and Sarah travels to the Kentucky Derby where Bert is arranging for Eddie to play against the rich socialite Findley. The game turns out to be three-cushion billiards instead of pool, and Eddies loses.
Sarah asks Eddie to leave with her, saying that the world he lives in and the people who are in it are "perverted, twisted and crippled". Eddie declines her wish, and instead aggrees to Bert´s offer to continue to stake him at $1,000 a game. Eddie rebounds and wins $12,000 of which $9,000 goesto Bert.
Eddie decides to walk back to the hotel, but Bert arrives before him and it is implied that he has sex with Sarah or possibly rapes her. A devasted Sarah scrawls PERVERTED, TWISTED and CRIPPLED on the bathroom mirror with her lipstick before committing suicide. When Eddie arrives to the hotel, he finds out that she has killed herself.
Eddie challenges Fats again, using his entire $3,000 as stake on a single game. He wins one game after another, until Fast calls it quits. Bert demands a share of the winnings and threatens Eddie with physical harm if he fails to pay, but Eddie refuses and explains that unless he is actually killed, he will murder Eddie as soon as he recovers from the injuries. Invoking the memory of Sarah, Eddie shames Bert into leaving without any money.
Eddie and Fats compliment each other as players, and Eddie leaves.
Cast
Paul Newman as "Fast Eddie" Felson
Jackie Gleason as Minnesota Fats
Piper Laurie as Sarah Packard
George C. Scott as Bert Gordon
Myron McCormick as Charlie
Murray Hamilton as Findley
Michael Constantine as Big John
Stefan Gierasch as Preacher
Clifford Pellow as Turk
Jake LaMotta as bartender
Gordon B. Clarke as cashier
Alexander Rose as scorekeeper
Carolyn Coates as waitress
Carl York as young hustler
Vincent Gardenia as bartender
Gloria Curtis as girl with fur coat
Charles Dierkop as poolroom hood
Donald Crabtree as poolroom hood
Brendan Fay as poolroom hood
Pool champion Willie Mosconi does a cameo as Willie, the man who holds the stakes for Eddie and Fat´s games. We can also see Mosconi´s hands in many of the closeup shots, since he shot a number of the trick shots (but none of Gleason´s shots).
Short facts about The Hustler
Based on
Walter Trevis 1959 novel "The Hustler"
Director
Robert Rossen
Producer
Robert Rossen
Production company
Rossen Enterprises
Screenplay by
Sidney Carroll
Robert Rossen
Starring
Paul Newman
Jackie Gleason
Piper Laurie
George C. Scott
Music by
Kenyon Hopkins
Cinematography
Eugen Schüfftan (credited as Eugene Shuftan)
Editing
Dede Allen
Distribution company
20th Century Fox
Release date
Lenght
2 hours and 14 minutes
Country
USA
Language
English
Budget
$2,125,000
Box office
$7,600,000
Sequel
The 1986 movie The Color of Money is a sequel to The Hustler. It is set more than 25 years after the events in The Hustler, and Paul Newman reprises his role as "Fast Eddie" Felson.