THIS ARTICLE CONTAINS SPOILERS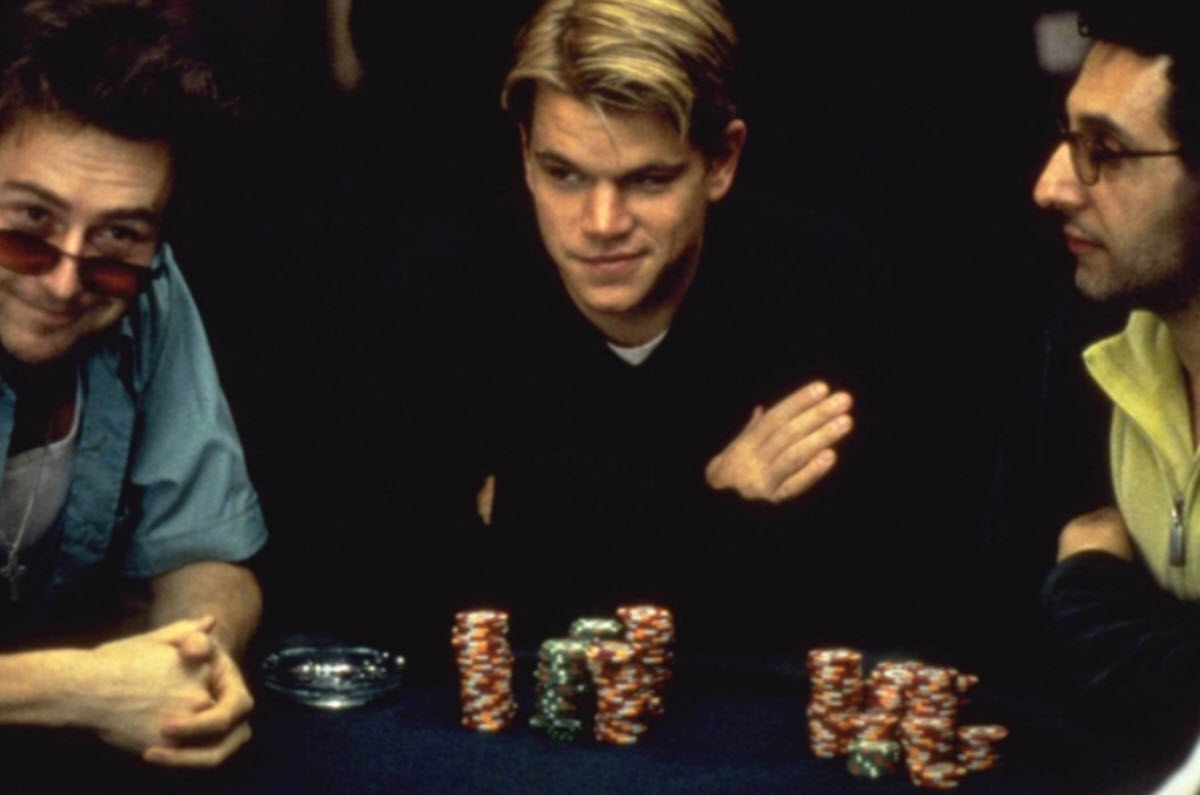 Rounders is a 1998 drama film about underground high-stakes poker, starring Matt Damon and Edward Norton. The main antagonist, a Russian mobster called KGB, is played by John Malkovich. The film was directed by John Dahl, a United States film and television director best known for his work i the neo-noir genre.
The movie was largely filmed in New York. One notable exception is certain law school scenes, which were shot at Rutgers Law School in New Jersey. The State Trooper poker game and parking lot scenes were also filmed in New Jersey, at the Elks Lodge in Ridgefield Park.
Rounders premiered in September 1998. It was a modest success, receiving mixed reviews and grossing $22.9 million in the United States on a $12 million budget. Later, the movie developed a cult following –, especially among poker players. Examples of professional poker players who are known to be fans of the film are Dutch Boyd, Gavin Griffin, Hevad Khan and Vanessa Rousso.
"There have been lots of movies that have included poker, but only Rounders really captures the energy and tension in the game. And that's why it stands as the best poker movie ever made." – Vanessa Rousso
Why is it called Rounders?
In the poker world, a rounder is a person who continuously travels from one place to the next in search of high-stakes card games.
Plot
Beginnings
In an underground Texas Hold´em game run by Russian mobster Teddy "KGB", the overconfident law-student and gifted poker player Mike McDermott loses his entire $30.000 bankroll on a single hand.
After this massive loss, he promises his girlfriend, the student Jo, to give up poker and focus on law school. His mentor Joey Knish attempts to get him back in the game by staking him as he rebuilds his bankroll, but Mike declines the offer.
Trying to help a friend
After several months, Mike attempts to help his childhood friend Lester "Worm" Murphy – who has just ben released from prison and is in debt – by giving him access to poker games across town. While Mike has always been an honest player, Worm is a cheater. Mike also reluctantly sits in on a game, which both interfers with his studies and puts tension on his relationship with Jo.
When Mike gives Worm permission to play on his credit at the Chesterfield Club, Worm abuses his trust by taking out $10,000 and starting a tab in Mike´s name, racking up an additional $6,000 in debt. Worm´s old debt from before has been purchased by the pimp Grama, who works for Teddy KGB and has increased the sum to $25,000. He takes the $10,000 from Worm and threaten him.
Returning to the game
Mike returns to poker and that world, which causes Jo to break up with him.
To save his friend Worm, he vouches for him in front of Grama, who give them both five days to repay the remaining $15,000.
Mike starts playing a lot of high-stakes games around the city, earning $7,200 in three days. With 48 hours left, Worm directs Mike to an out-of-town game hosted by New York state troopers. Mike has almost reached the required $15,000 when Worm unexpectedly joins the poker table. True to his cheating ways, Worm base-deals to help Mike and is discovered by the troopers. Both are beaten up and all their winnings are taken from them.
Heads-up against KGB
With no money to give Grama, Worms decides to flee, but Mike returns to the city, cutting ties with his old friend. Grama refuses to give Mike more time to come up with the money, so Mike borrows $10,000 from his law school professor Petrovsky.
Mike challenges Teddy "KGB" to a heads-up winner-takes-all No Limit Texas Hold´em game for the remaining debt and KGB accepts.
Mike beats KGB in the first session, winning $20,000 which is enough to settle the big debt and a bit of the other ones. Instead of leaving, however, he falls for KGB´s provocations and continue to play – with double blind-size. Gradually, Mike learns to detect KGB´s tell. In a crucial hand, Mike folds because the tell lets him know that KGB has a superior hand. This makes KGB angry and he "tilts", beginning to play recklessly.
In the final hand of the night, Mike wins with a nut straight after baiting KGB to go all in. KGB allows Mike to leave with over $60,000 in winnings.
Mike repays Grama, Petrovsky and the Chesterfield Club. He also drops out of law school and go to Las Vegas to play in the World Series of Poker (WSOP).
Cast
Matt Damon as Mike McDermott
Edward Norton as Lester "Worm" Murphy
John Turturro as Joey Knish
John Malkovich as Teddy KGB
Famke Janssen as Petra
Michael Rispoli as Grama
Martin Landau as Abe Petrovsky
Gretchen Mol as Jo
Paul Cicero as Russian Thug
Melina Kanakaredes as Barbara
Josh Mostel as Zagosh
Tom Aldredge as Judge Marinacci
Lenny Clarke as Savino
Chris Messina as Higgins
Goran Višnjić as Maurice
David Zayas as Osborne
Johnny Chan as himself
Bill Camp as Eisenberg
Josh Pais as Weitz
Adam LeFerve as Sean Frye
Short facts about Rounders
Director
John Dahl
Producers
Joel Stillerman
Ted Demme
Production company
Spanky Pictures
Written by
David Levien
Brian Koppelman
Starring

Matt Damon
Edward Norton
John Turturro
Famke Janssen
Gretchen Mol
John Malkovich
Martin Landau

Music by
Christopher Young
Cinematography
Jean-Yves Escoffier
Editing
Scott Chestnut
Distribution company
Miramax Films
Release dates

September 4, 1998 (Venice Film Festival)
September 8, 1998 (Deauville Film Festival)
September 11, 1998 (United States)

Lenght
2 hours and 1 minute
Country
United States
Language
English
French