THIS ARTICLE CONTAINS SPOILERS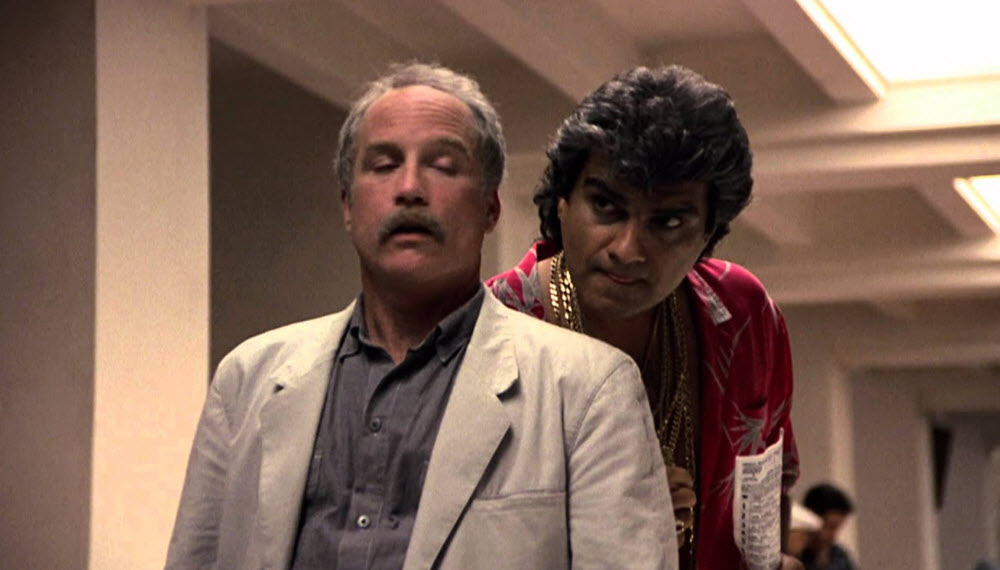 Let It Ride is a 1989 comedy movie based on the 1979 Jay Cronley novel "Good Vibes". The main character, Jay Trotter, is a normally unsuccessful gambler who gets to experience a very lucky day at the racetrack.
Let It Ride was directed by Joe Pytka, and the novel was turned into a screenplay by Nancy Dowd (credited as Ernest Morton).
Starring Richard Dreyfuss, David Johansen, Teri Garr, Jennifer Tilly, Cynthia Nixon and Robbie Coltrane, this movie was chiefly shot at the Hialeah Park Race Tack in Florida, USA.
Plot
Through a secret microphone in his taxi, cab driver Looney finds out that a horse has been "held back" and is a sure thing to win its next race. Together with his close friend Jay Trotter, Looney goes to the track to bet on the horse. Just the day before, Jay promised his wife Pam to never bet again and instead focus on fixing their marriage.
In a restroom near the racetrack, Jay prays to God, asking for "Just one big day, that's all I'm asking for, one day, I'm due." A man overhears him and answers "Ya? so's Jesus. Let it ride." With this encouragement, Jay promptly bets $50 on the horse to win. Looney instead bets on a horse named June Bug, since he used to own a cat by that name.
Jay´s horse wins the race with a photo finnish and Jay earns $710. He approaches the two men who unknowingly provided the tip and gives them the tape of their cab conversation. As a thank you, they give Jay a tip for the next race. Jay follows their advice, places a big bet and wins again.
Jay is now convinced that this is his one lucky day and decides to "let it ride", i.e. always bet his winnings on the next race throughout the day. Before he has a chance to make new bet, however, he is arrested. It turns out to be a case of misstaken identity and Jay is quickly released again. The race is already over and the horse he intended to bet on has lost.
This enforces Jay´s belief in his "one lucky day" and he resumes his betting. As his wins become larger and larger, he gains access to the track´s exclusive club house and begins to rub shoulders with other big betters, including the sexy Vicki and the wealthy Mrs. Davis.
A dissappointed Pam, who has realised that her husband has broken his promise and gone to the racetrack, confronts him at the club house. Jay explains that he is on a winning streak and manages to calm her down a bit.
After betting on Fleet Dreams – absolutely not a favorite – and winning anyway, Jay decides to call it a day and go back home to Pam. On the way, he buys her a diamond necklace.
At home, he finds Pam intoxicated and passed out, so he decides to return to the track instead. Vicki offers to have sex with him, but he turns her down and professes his love for Pam. Jay bets his accumulated winnings – $68,000 – on Hot to Trot.
Pam shows up at the track, thanking Jay for the gift and telling him not to worry about the money. Hot to Trot wins a photo finish and the audience begins to cheer.
Cast
Richard Dreyfuss as Jay Trotter
David Johansen as Looney
Teri Garr as Pam
Jennifer Tilly as Vicki
Allen Garfield as Greenberg
Robbie Coltrane as Ticket Seller
Michelle Phillips as Mrs. Davis
Cynthia Nixon as Evangeline
Ralph Seymour as Sid
Richard Edson as Johnny Casino
Trevor Denman as Race Track Announcer
Edward Walsh as Marty (credited as Ed Walsh)
Short facts about Let It Ride
Based on
The novel "Good Vibes" by Jay Cronley
Director
Joe Pytka
Producer
David Giler
Production company
Paramount Pictures
Screenplay by
Nancy Dowd
(credited as Ernest Morton)
Starring

Richard Dreyfuss
David Johansen
Teri Garr
Allen Garfield

Music by
Giorgio Moroder
Cinematography
Curtis Wehr
Editor
Dede Allen
Jim Miller
Distribution company
Paramount Pictures
Premier
Lenght
87 minutes
Country
United States
Language
English
Budget
$18 million
Box office
$4,973,285