THIS ARTICLE CONTAINS SPOILERS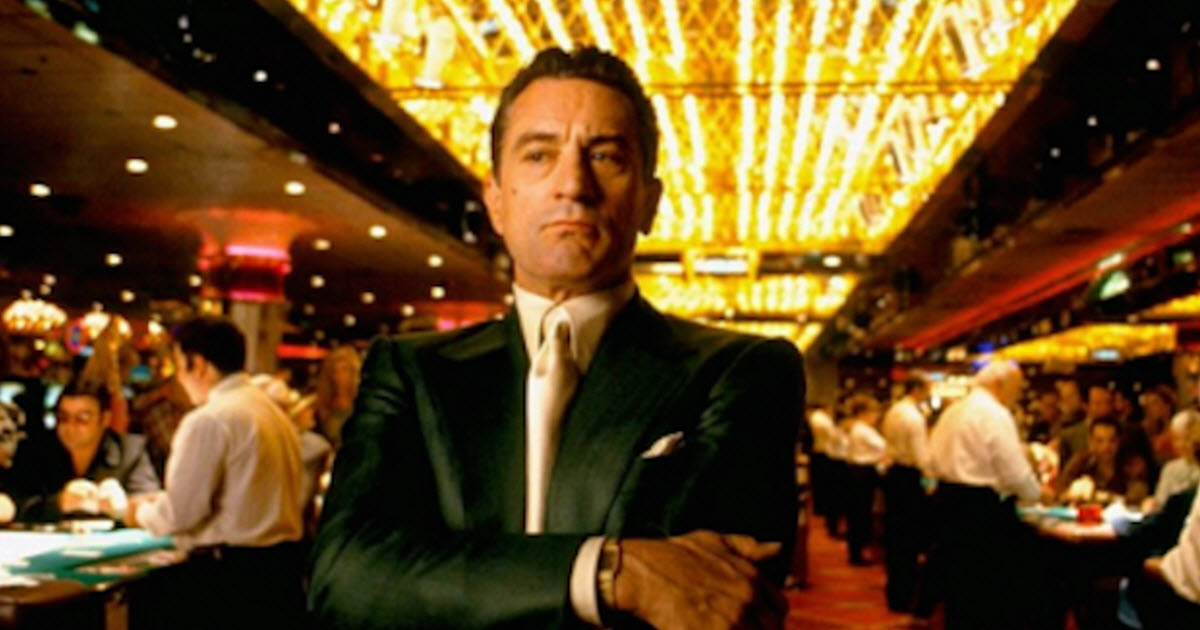 Casino is a 1995 epic crime film directed by Martin Scorsese, starring Robert De Niro, Sharon Stone and Joe Pesci. The movie, which was the eight collaboration between Scorses and De Niro, received both critial praise and significant box office success. For her role as Ginger McKenna, Sharon Stone earned a Golden Globe Award for Best Actress in a Motion Picture – Drama, and she was also nominted for an Academy Award for Best Acress.
The film is based on the non-fiction book "Casino: Love and Honor in Las Vegas" by Nicholas Pileggo. Pileggo was involved in the movie project and co-wrote the screenplay for the film.
The three main characters in the movie are based on real people. Sam "Ace" Rothstein is based on Frank "Lefty" Rosenthal who ran the Las Vegas casinos Stardust, Fremon, Marina and Hacienda for the Chicago Outfit in the 1970s. The character Ginger McKenna was inspired by the dancer and socialite Geri McGee, and the character Nicky Santoro can be traced to the mob enforcers Anthony Spilotro.
Plot
The movie follows the life of Jewish American gambling expert Sam "Ace" Rothstein who oversees the Tangiers Casino in Las Vegas on behalf of the Chicago Outfit, while Philip Green serves as the hotel´s CEO frontman. The mafia member Nicholas "Nicky" Santoro is Ace´s close friend from childhood, while the streewise Ginger McKenna is his wife and the mother of his child. The movie revolves around Ace´s operation of the hotel and casino, the Mafia´s involvement, and the gradual breakdown of Ace´s professional and personal relationships.
The film starts in 1973, when the Chicago Outfit sends Rothstein to Las Vegas to run the Teamsters-funded Tangiers Casino. Rothstein manages to double the casino´s profits, which are skimmed by the Chicago Outfit before taxes.
To protect Rothstein in Las Vegas, the Chicago Outfit sends him his childhood friend Nicky Santoro, who is now a mob enforcer. Santoro´s younger brother Dominick is also sent along, together with Santoro´s childhood friend Frankie Marino.
Eventually, Nicky is banned from every casino in Nevada due to his volatilve temper. Also, Dominick and Frankie forms their own crew and carry out shakedowns and other criminal activity without the blessing of the Chicago Outfit.
Sam Rothstein falls in love with the former prostitute Ginger McKenna. They have a daughter and marry, but Ginger´s ex-boyfriend Lester Diamond – who is a con artist and pimp – causes problems for the relationship. After conning Ginger out of $25,000, Lester is beaten by Nicky and his gang on behalf of Sam. Ginger develops an addiction to alcohol and narcotics.
In 1976, Sam loses his Nevada gaming license, a loss which jeopardizes his position. The loss is largely the result of strings pulled by a chairman of the Clark County Commission, as a punishment for Sam´s previous firing of the chairman´s brother in law from the Tangiers. Sam, however, blames Nicky´s reckless behaviour for having attracted the ire of the Nevada Gaming Board.
Simultaneously, tension is high between Sam and his bosses in Chicago, because Sam is not keeping a low profile himself. By hosting a talk show on local television, Sam is becoming a bit of a local celebrity, bringing unwanted attention to the Tangiers.
As if this wasn´t enough, there is an FBI investigation going on regarding mafia operations in the Midwest, and when Kansas City underboss Artie Piscano fails to be descreat, the FBI gets a reason to turn their eye onto the Tangiers in Las Vegas.
Sam´s personal life is also falling a part. He seeks to divorce Ginger, who then kidnaps their daughter and plans to flee to Europe with her and Lester. After a lot of back and forth, Ginger and the child stays in Las Vegas, where Ginger starts an affair with Nicky. When Ginger puts pressure on Nicky to kill Sam, Nicky refuses and throws her out. A drunk ginger crashes a car, tries to get her valuables out of Sam´s safety box and ends up being arrested by the FBI – who wants to use her as a witness.
As the 1970´s is approaching its end, FBI shuts down the Tangiers and Philip aggrees to cooperate with the authorities. A very incriminating notebook kept by Artie Piscano is discovered by federal agents during a home search and Artie dies of a heart attack.
The FBI tries to convert Sam to their side by showing him photographs of Nicky and Ginger together, but Sam refuses.
After the arrest of important Chicago bosses, they start to arrange the elimination of anyone who might testify against them. After Ginger´s death by a drug overdose, Sam barely escapes a car bomb and suspects Nicky to be the culprit. Nicky´s appearently unauthorized attempt to murder Sam is the last straw for the bosses in Chicago, who orders Frankie to ambush Nicky and Dominick. Nicky and Dominick are lured to a fake meeting, where they are subsequently beaten and finally buried alive.
With the Chicago Outfit on its knees and devoid of licensing fronts, large corporations can sweap in and purchase the casinos – which are promptly demolished to leave room for modern hotel-casino developments.
Sam retires to San Diego where he makes a living as a sports handicapper. In his own words, he has ended up "right back where I started".
Cast
Robert De Niro as Sam "Ace" Rothstein
Joe Pesci as Nicholas "Nicky" Santoro
Sharon Stone as Ginger McKenna
James Woods as Lester Diamond
Don Rickles as Billy Sherbert
Alan King as Andy Stone
Kevin Pollak as Philip Green
L. Q. Jones as Pat Webb
Dick Smothers as Senator
Frank Vincent as Frank Marino
John Bloom as Don Ward
Pasquale Cajano as Remo Gaggi
Melissa Prophet as Jennifer Santoro
Bill Allison as John Nance
Vinny Vella as Artie Piscano
Oscar Goodman as Himself
Catherine Scorsese as Piscano's mother
Philip Suriano as Dominick Santoro
Erika Von Tagen as Older Amy
Frankie Avalon as Himself
Steve Allen as Himself
Jayne Meadows as Herself
Jerry Vale as Himself
Joseph Rigano as Vincent Borelli
Short info about the movie Casino
Based on
The non-fiction book "Casino: Love and Honor in Las Vegas" by Nicholas Pileggi
Director
Martin Scorsese
Producer
Barbara De Fina
Production companies

Syalis D.A.
Légende Entreprises
De Fina/Cappa

Screenplay by

Nicholas Pileggi
Martin Scorsese

Starring

Robert De Niro
Sharon Stone
Joe Pesci
Don Rickles
Kevin Pollak
James Woods

Cinematography
Robert Richardson
Editing
Thelma Schoonmaker
Distribution company
Universal Pictures
Premier
Lenght
2 hours and 58 minutes
Country
USA
Language
English
Budget
40–50 million USD
Box office
116.1 million USD