THIS ARTICLE CONTAINS SPOILERS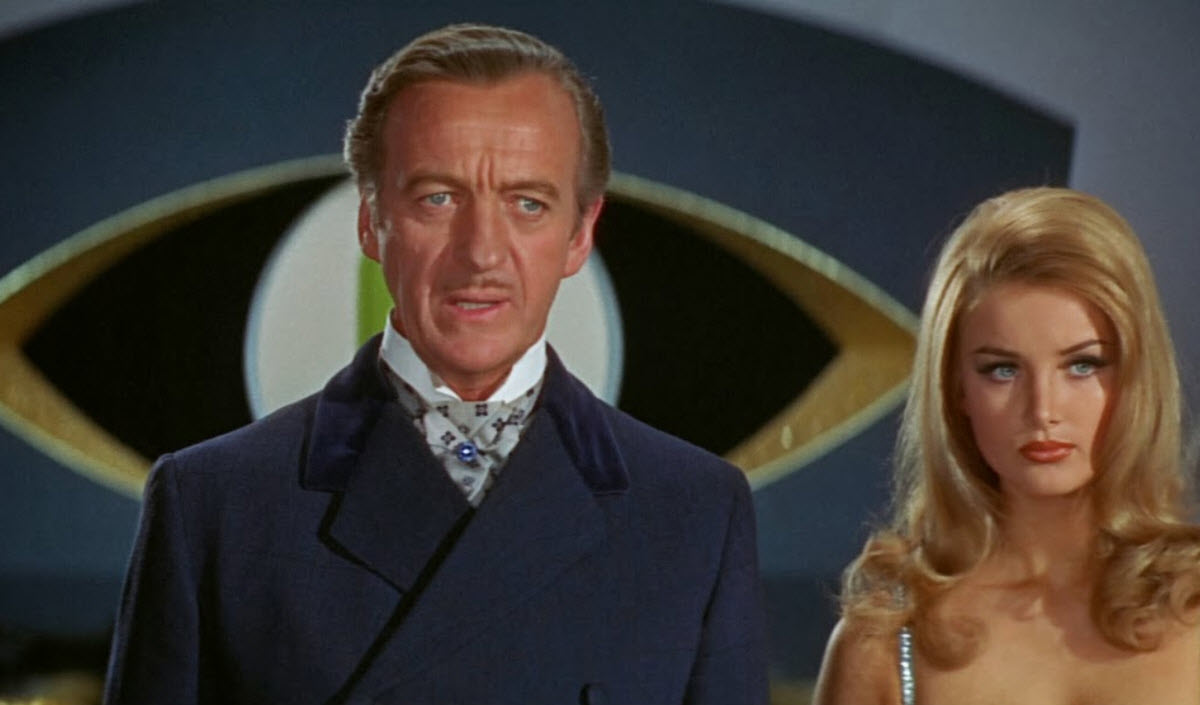 Casino Royale is a 1967 film loosely based on Ian Fleming´s first novel about the British spy James Bond. Produced by Columbia Pictures, it features and ensemble cast and falls into the spy comedy category.
In the role of James Bond, we see David Niven, an actor who had been Ian Fleming´s first choice to play Bond in the 1962 Bond-film Dr. No. (In that film, Bond was ultimately played by Sean Connery.)
The movie Casino Royal was released on 13 April 1967, just two months prior to the Bond-movie "You Only Live Twice". Casino Royal became a great boxoffice success, grossing over 41.7 million USD worldwide, despite plenty of negative reviews in the papers.
Burt Bacharach's musical score for Casino Royal received a lot of praise and he earned an Oscar nomination for the song "The Look of Love".
Tagline
The tagline of the movie Casino Royal is "Casino Royale is too much… for one James Bond!"
It is a reference to how six other agents pretend to be James Bond in an effort to mislead SMERSH.
Plot
Back to work
Twenty years ago, the legendary British spy Sir James Bond 007 retired from the secret service. Now, he is urged to return by representatives from several nations – including the head of MI6 – since they need his help in the fight against SMERSH, a rouge organization that is killing secret agents.
Initially, Bond refuses to go back to work, but he changes his mind when his mansion is destroyed in a mortar attack that also kills M. In Scotland, M´s widow Lady Fiona – and the rest of her household – has been replaced by agents of SMERSH who aim to destroy Bond´s celibate image.
Head of MI6
The ersatz Lady Fiona evetually changes sides and help foil the plot against Bond. After surviving an assassination attempt en route to London, Bond is promoted to head of MI6. He realises that many of the secret agents killed by SMERSH worldwide were volnurable due to their inability to resist sex when offered. Therefore, Bond launches a program that will train male agents to resist the charms of seductive women.
Casino Royal
SMERSH agent Le Chiffre has embezzled money from SMERSH and fears execution if he fails to return them. He travels to Casino Royal in an attempt to win the money at the baccarat table. Meanwhile, Bond has recruited the baccarat expert Evelyn Tremble. At Casino Royal, Tremble reveals that Le Chiffre is using infrared sunglasses to cheat. MI6 recruit Vesper Lynd steals that glasses for Tremble, who then beats Le Chiffre at live baccarat.
Both Lynd and Tremple are kidnapped and Le Chiffre hallucinogenically tortures Tremble. Lynd rescues Tremble, only to subsequently kill him. Le Chiffre is killed by SMERSH agents.
In London, Bond´s daughter Mata Bond is kidnapped by SMERSH, so her father and Moneypenny travels to Casino Royal to save her. They find out that the casino sits on top of an underground base run by the evil Dr. Noah. Dr. Noah is actually James Bond´s nephew Jimmy Bond, who used to work for MI6 before defecting to SMERSH.
Dr. Noah plans to use biological warfare to make all women beautiful and kill all men over 4-foot-6-inches. Before he can put his plan into action, he is tricked by the MI6 agent The Detainer who makes him swallow one of his own atomic pills. This turns Dr. Noah into an atomic bomb.
James Bond, Mata Bond, Moneypenny and MI6 agent Coop escape from the underground base and fight their way back to Casino Royal´s director's office, where James Bond establishes that Lynd is a double agent. Secret agents swarm the casino, as well as support forces from France and the United States.
Chaos and mayhem ensues. Dr. Noah develops a problematic hiccup and explodes, destroying Casino Royal and killing those who are there. James Bond and those loyal to him go to heaven, while Dr. Noah goes to hell.
Main cast
David Niven as Sir James Bond
Peter Sellers as Evelyn Tremble
Ursula Andress as Vesper Lynd
Joanna Pettet as Mata Bond
Daliah Lavi as The Detainer
Woody Allen as Dr. Noah / Jimmy Bond
Barbara Bouchet as Miss Moneypenny
Terence Cooper as Coop
Deborah Kerr as Agent Mimi (impersonating Lady Fiona McTarry)
Orson Welles as Le Chiffre
William Holden as Ransome
Charles Boyer as Legrand
John Huston as M / McTarry
Kurt Kasznar as Smernov
George Raft as himself
Jean-Paul Belmondo as French Legionnaire
Short facts about Casino Royal
Based on
The "Casino Royale" novel by Ian Fleming
Directors
Ken Hughes
John Huston
Joseph McGrath
Robert Parrish
Val Guest
Richard Talmadge (uncredited)
Producers
Charles K. Feldman
Jerry Bresler
Production company
Famous Artists Productions
Screenplay by
Wolf Mankowitz
John Law
Michael Sayers
Cinematography
Jack Hildyard
Nicolas Roeg
John Wilcox
Starring
Peter Sellers
Ursula Andress
Barbara Bouchet
David Niven
Woody Allen
Joanna Pettet
Orson Welles
Daliah Lavi
Music by
Burt Bacharach
Edited by
Bill Lenny
Distributed by
Columbia Pictures
Release date

13 April 1967 (London, UK)
28 April 1967 (New York, USA)

Lenght
2 hours and 11 minutes
Country
United Kingdom
United States
Language
English
Budget
12 million USD
Box office
41.7 million USD