THIS ARTICLE CONTAINS SPOILERS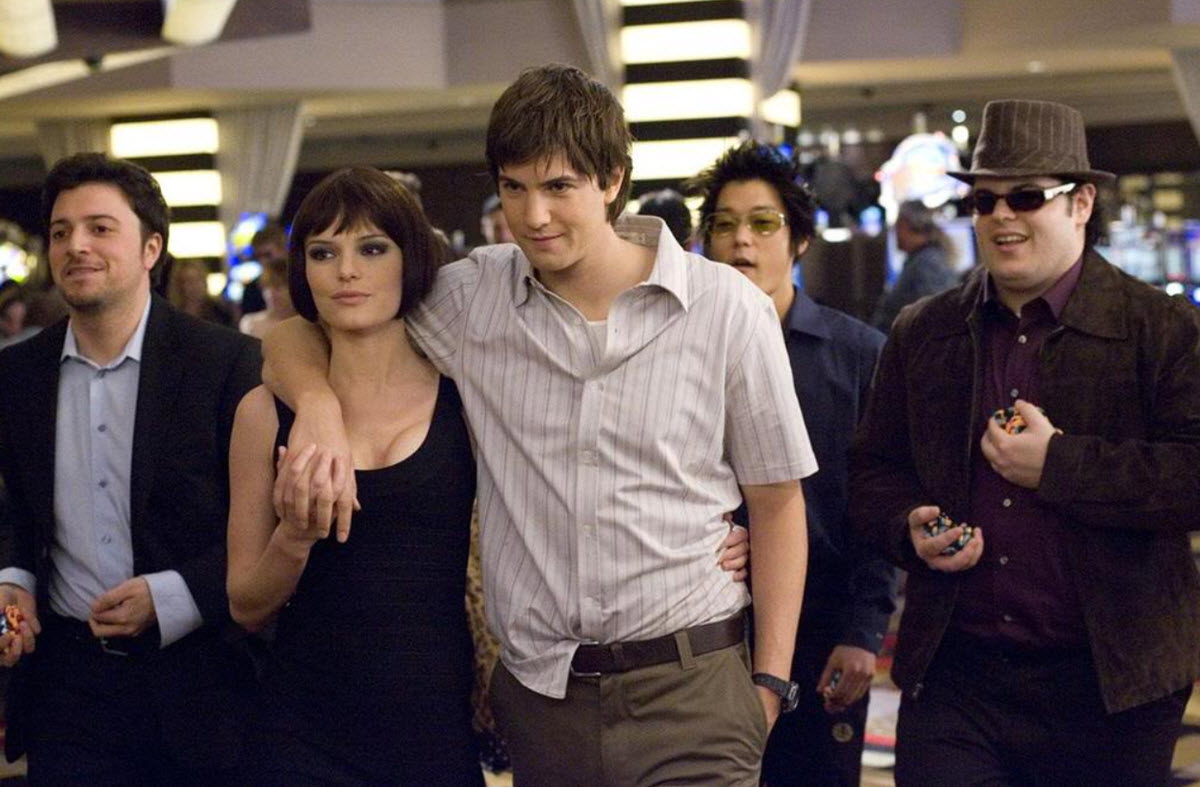 21 is a 2008 heist drama film inspired by the true story of the MIT Blackjack Team, as told in Ben Mezrich´s book "Bringing Down the House: The Inside Story of Six MIT Students Who Took Vegas for Millions".
21 was directed by Robert Luketic and starred Jim Sturgess, Kevin Spacey, Laurence Fishburne, Kate Bosworth, Liza Lapira, Jacob Pitts, Aaron Yoo, and Kieu Chinh. Some of the casting choices proved controversial, since several characters who were Asian-Americans in the book were played by actors who are not Asian-American.
Several Las Vegas casinos were used for the filming of the movie: Planet Hollywood Resort & Casino, Red Rock Casino, and the Hard Rock Casino. Filming also took place at Boston´s Chinatown, the Christian Science Center in Boston and at Harvard Medical School. The Massachusetts Institute of Technology (MIT) did not allow filming on their campus, so MIT scenes were shot at Boston University instead.
The film received mixed reviews but became a $159.8 million box office success on a budget of $35 million. It was the number one film in the United States and Canada during its first and second weekends of release.
Plot
Great expectations
Ben Campbell, a mathematics major at MIT, is accepted into Harvard Medical School but cannot pay the $300,000 tuition fee. He applies for a large scholarship that would cover the cost, but a lot of equally accomplished students are vying over it.
At MIT, Ben´s math skills catch the attention of professor Micky Rosa who invite him to join his blackjack team. Current members of the team are the students Choi, Fisher, Kianna and Jill. Using card counting and covert signalling, the team increases their probability of making a profit when playing blackjack in Las Vegas.
Now a part of the successful team, Ben starts travelling to Las Vegas with them over the weekends, hitting the casinos and enjoying a high-roller lifestyle. Micky frees up more time for Ben by compelling another professor to give Ben a passing grade for a course without requiring him to do the course work.
Problems ensue
Eventually, Fisher becomes jealous and starts a fight with Ben, causing Micky to kick Fisher out of the team. Meanwhile, the team has caught the attention of casino head-of-security Cole Williams.
Ben´s work with the team, his frequent travelling and his new priorities estranges him from his old friends at MIT. After letting his friends down in an engineering competition, he becomes emotionally distracted. During his next stint in Las Vegas, he fails to notice a team signal which in turn causes him to lose $200,000.
An upset Micky quits the team and demands $200,000 from Ben. Together with three other students, Ben decides to keep playing blackjack without Micky. Micky betrays them to Cole, who beat up Ben and warns him not to come back.
Back at MIT, the course for which Ben was promised a passing grade is suddenly marked as incomplete on his record, and Ben learns that he is ineligible for graduation. To make things even worse, Ben´s saved up winnings are stolen from his dorm room, and he suspects Micky.
Return to Las Vegas
The blackjack team persuades Micky to make a final trip with them to Las Vegas before the casinos install biometric software. They return to Planet Hollywood in disguise and proceeds to win $640,000 before Cole interferes. Micky takes the bag of casino chips and flees, but soon realizes that the chips are fake.
It is revealed that Ben has collaborated with Cole to give him Micky. In exchange for delivering Micky to Cole, Ben is allowed to play for one more night in Las Vegas with immunity from capture. As Ben is leaving with his winnings, Cole double-crosses him and steals the chips as gunpoint.
Still, the movie ends well for Ben, because he has previously reconciled with his old MIT friends Miles and Cam and brought them into the team. During the night, the reinforced team has made a huge profit.
Cast
Jim Sturgess as Ben Campbell
Kate Bosworth as Jill
Kevin Spacey as Micky Rosa
Aaron Yoo as Choi
Liza Lapira as Kianna
Jacob Pitts as Fisher
Laurence Fishburne as Cole Williams
Jack McGee as Terry
Josh Gad as Miles
Sam Golzari as Cam
Helen Carey as Ellen Campbell
Jack Gilpin as Bob Phillips
Short facts about 21
Director
Robert Luketic
Producers

Kevin Spacey
Dana Brunetti
Michael De Luca

Production companies

Relativity Media
Trigger Street Productions
Michael De Luca Productions

Written by

Peter Steinfeld
Allan Loeb

Based on
The book Bringing Down the House by Ben Mezrich
Starring

Jim Sturgess
Kate Bosworth
Laurence Fishburne
Kevin Spacey

Music by
David Sardy
Cinematography
Russell Carpenter
Editing
Elliot Graham
Lenght
2 hours and 3 minutes
Country
USA
Language
English
Distribution company
Columbia Pictures
Premier
Budget
$35 million
Box office
$159.8 million